Sexy sports candids – Athletes in tight revealing outfits
Here's a video that everyone's going to enjoy watching, some sexy cheerleaders are giving a hot dance on stage in tight black leggings.  The dance is rather provocative, it will make you want to sit back in your chair and put it on repeat, watching these fit girls show off their smooth moves and hot bodies.  To watch the girls dance now on WeHatePorn just click on the screenshot below.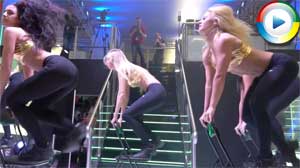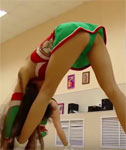 December 02, 2016
As you know, we post these videos of cheerleaders for educational purposes, so make sure you stay focused and learn from what you see.  These cheerleaders only agreed to this video because they believed you were wanting to learn about their wonderful sport, that's why they allowed the closeups of their green panties and asses as they were stretching.  Feel free to press pause as often as you like to ensure you learn this lesson about cheerleaders really well!  To watch now on WeHatePorn just click on the screencap below.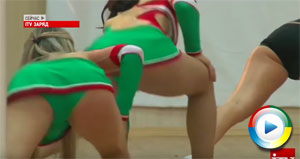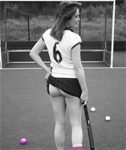 July 20, 2016
There are some girls who will only get naked on the Internet for charity, it is often girls in University sports teams.  Today we've put a together a collection of nice girls showing their asses to raise money for a good cause.  It's mostly UK girls who who have dared to show skin for, this is most likely the only time you'll find these girls flaunting their bodies on the Internet.  Fair play to them for being brave enough to do this to help people out, the next time one of these calendars goes on sale make sure you buy one to help the chosen charities.  Click on the team below to see more.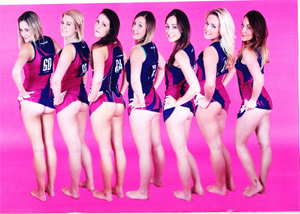 Danishsports team Tvis Holstebro have stripped off in the showers and taken a naked photo which they have then shared on social media to celebrate winning the EuropeanHandball cup, let's hope they win every year from now on so as we get to enjoy many more such titillating moments.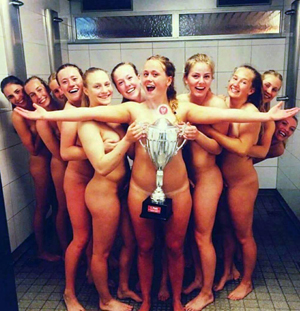 March 21, 2016
Here's a hot video we've found for you, it's of some super sexy girls in American football gear and thongs, this type of sport is essential viewing.  It doesn't matter which team your support, everyone's a winner at this game.  To watch now on WeHatePorn click on the screencap below.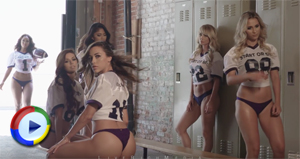 March 16, 2016
We always love it when students do their bit for charity, one of the real eye-catchers is when the sports teams pose for naked calendars.  It happens a lot at UK universities in particular, fair-play to them for daring to stripnaked for these calendars and raising money for important charities.  To see more now click on the pic below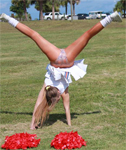 February 15, 2016
Today we have a blondecheerleader from Zoligirls.  Her name is Angelica, she's wearing a cute white miniskirt and you know it's just a matter of time until she gives us an upskirt or two.  She's wearing sheer pantyhose on top of her knickers, as you'll see when she does a cartwheel.  To see more of her now on WeHatePorn click on the pic below.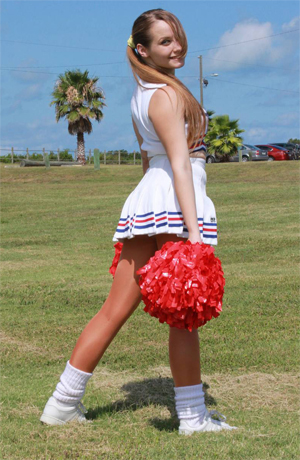 February 02, 2016
We all love watching women's sport, so let's catch up on the latest action from France V Italy in the European water polo championship 2016.  These fit girls are in tight swimsuits showing off their wonderful figures, watch carefully for oops moments underwater especially when the girls pull at their opponents swimsuits in an attempt to gain a competitive advantage.  To watch more now on WeHatePorn click on the image below.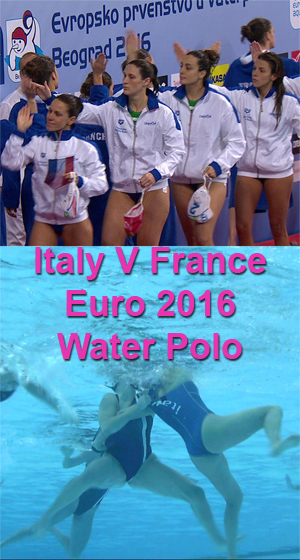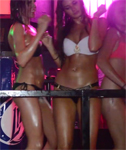 January 27, 2016
Playboy take the girls to play a spot of Playboy Golf every now and again, this time it's the turn of Jessica Marie Love who's come prepared in an incredibly short mini-skirt, so short that we don't need to rely on upskirts to see her underwear.  To watch her now on WeHatePorn simply click on the screencap below.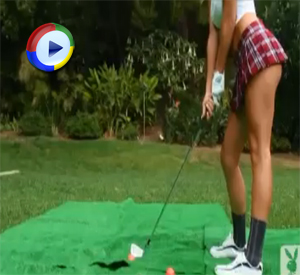 October 29, 2015
Stellaxo is a football fan, her fans have been begging for her to put on a football strip for some sexy pics, now she is giving them what they want.  Stellaxo gets into all the right poses and positions, your eyes are in for real treat, but at the same time she leaves you wanting so much more.  To see more of this cutie now on WeHatePorn click on her pic below.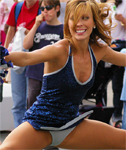 October 15, 2015
We've got some amazing cheerleaderupskirt pics for your today which you'll no doubt appreciate!  When cheerleaders high-kick and show their tight knickers, many people which they could have a closer look, so we've been zooming in on some cheerleaderupskirts for you to get better view.  To see more now on WeHatePorn click on the image below.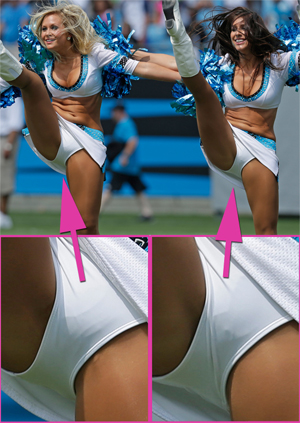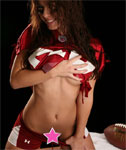 September 12, 2015
Excellent news, another amazing release has just gone live inside the Kari SweetsUltimate Collection website.  It's Kari's 'Touchdown Tease' in wonderful high resolution and with some more revealing pics than were previously released.  Kariteases in every position you could dream of, then lifts up her sports shirt to show you some underboob, and then she makes everyone's heart race as she gives us peeks down the front and back of her shorts.  To see more now on WeHatePorn click on super-cute Kari below.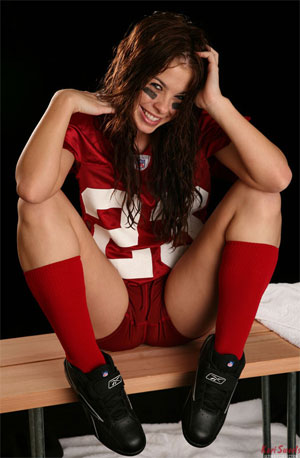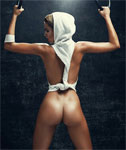 August 14, 2015
You'll be delighted to see that Playboy have got hold of one of the Guess girls, Heather Depriest, and convinced her to give up the goods.  The Guess girls are some of the hottest on this planet, they take hot to another level, Heather is incredibly athletic and not afraid to show off her fit body for our enjoyment.  To see more of her now on WeHatePorn simply click on her hot pic below.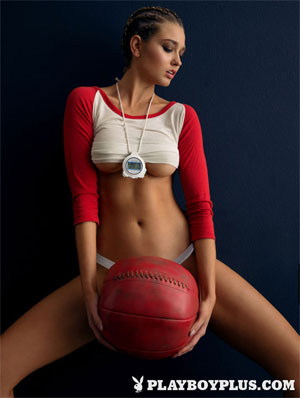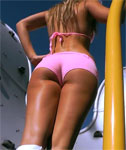 August 14, 2015
We've got a super sexy collection of pro cheerleaders for you today.  It's often debated whether cheerleading is a sport, but one thing that we can be sure of is that watching videos of cheerleadersdancing is a sport for us!  We've got five videos for you of gorgeous pro cheerleaders showing off for the camera, it's eye candy time!  To enjoy watching now on WeHatePorn click on the screencap below.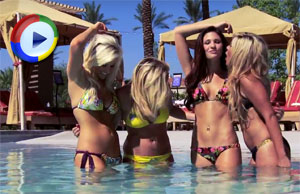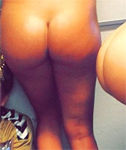 June 17, 2015
Looks like the Brondby Ladies soccer team have been winning again, they have a special way of celebrating as we've seen before.  This type of behavior will surely get them a lot more fans, including all of us for starters.  From now on let's make sure we cheer them on, who knows these girls might share with us next time!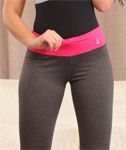 April 17, 2015
Fit girl Kara is showing off in a leotard and leggings on Only Tease, as you'll be able to see she's giving us a lovely view of her cute ass.  After a while she strips off her leggings to give you a better view, and eventually she even starts to peel off her leotard too.  How much will Kara show us today?  To see more of her now on WeHatePorn simply click on the photo below.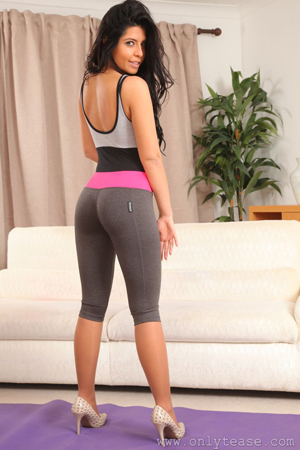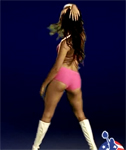 April 15, 2015
Now here's a nice video we've dug out to share with you, it's of a hot professional cheerleader telling us about herself while the camera zooms in close to her beautiful body giving us lots of close-ups which will make many a heart flutter.  She sees herself as a dancer but admits that many will see her more as an object (as most of you probably will).  Watch this beautifulcheerleader showing off her fit body in a variety of cute and revealing bikinis.  To watch her now on WeHatePorn click on the screen-cap below.

March 27, 2015
Katrina Elizabeth is a Californian girl of German, Irish and Scottish descent, her mother is from LA and her father is a British winemaker.  Katrina has many talents including playing the piano, painting and photography.  She has a deep love for all arts and music.  The great news is that Playboy have come calling and they've asked her to put on her sexy tennis outfit, Katrina is a good sport so she agreed.  To see more of her now on WeHatePorn click on the image of Katrina's hot ass below.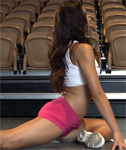 February 18, 2015
A genius has managed to convince some cheerleaders that they need to demonstrate to us how they do their stretching, the cheerleaders always desperate for attention fell for it and allowed for a super sexyvideo where they show off their flexibility to the full.  Look closely and see if you can spot any oopsupshorts.  This is when sports gets sexy, it's a real tease for us to watch and the cheerleaders don't even know it.  To watch now on WeHatePorn click on the image below.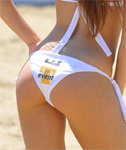 January 31, 2015
We know it makes you smile to see sexy beach cheerleadersdancing in tight bikinis, it's a sure thing to update with.  These girls are fit and they know how to dance, they want to show off for the crowd in their skimpy outfits.  Look out for one girl who's outfit is more revealing than she realized, to see more now on WeHatePorn click on the hot cameltoe and pokiescheerleader below.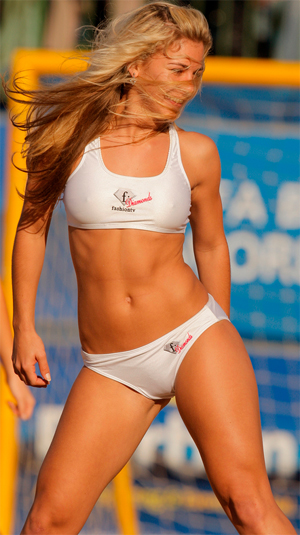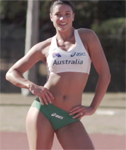 January 04, 2015
Australian hurdler Michelle Jenneke is back again, remember she's the one who always wins the race after doing a cutie dance, this time we're going to get to know her intimately.  In this video we have over 3 minutes of Michelle allowing us to witness her fitness, first she wears her sportsknickers and then she puts on a tight bikini, she shows off all of her talent even allowing us to watch her close-up in the gym as she gets all hot and sweaty.  To enjoy the video now on WeHatePorn click on one of the screengrabs below.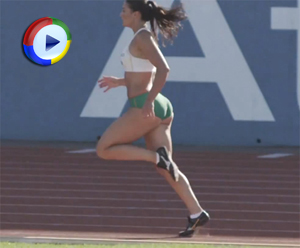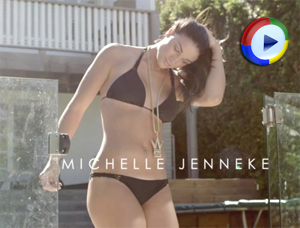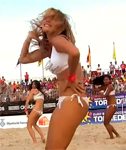 December 18, 2014
If there's a sure thing to post here which we can guarantee all you readers will love it's dancingcheerleaders, so here's a hot video of some super sexycheerleadersdancing in their bikinis.  To watch now on WeHatePorn click on the image below.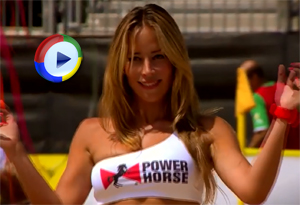 Here's something we would all love to see more of and it would certainly increase the numbers following women's football/soccer.  Brondby Ladies beat their title rivals Fortuna Hjorring 3-2, after the game in the changing rooms they celebrated by pulling down their shorts and flashing their bare backsides for a cheeky photo.  This result puts them 4 points clear at the top of the Danish Elite Divisionen.  To see more now on WeHatePorn click on the sporty girls below.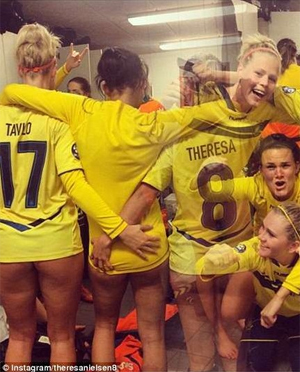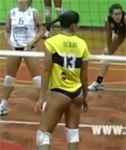 November 16, 2014
Today we're going to head over to Argentina to watch sport, how about some women's volleyball?  Over there they wear tight sexyknickers as they play giving the fans a great view of their wonderful fit asses.  Which of the teams will you be cheering for today?  Probably whichever one has the tightest knickers. 😉  To see them now on WeHatePorn click on the hugging girls below.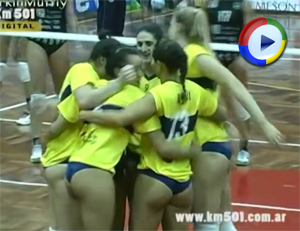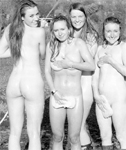 November 10, 2014
VIDEO and PHOTOS: Here are some good students doing their best to raise money for charity, it's a girls sports team from a well-respected UK university.  The girls have kindly volunteered to stripnaked for the greater good, they are raising money for Breast Cancer UK by showing off their fit bodies for a charity calendar.  It's very brave of them to do this, but as you'll see below the girls have no reason to be shy as they are all perfect in every way.  We would strongly recommend you reward the girls by helping them raise money for their chosen charity, to order the calendar now just head over to their order page >HERE< (it says on their page that anyone can order from UK or aboard).  To see more of them now on WeHatePorn click on one of the two images below.