ENF Girls – Embarrassed Nude Females in public
It's always worth checking in for the latest updates over on Real Girls Gone Bad, they've got girls who you won't find anywhere else on the Internet taking part in all kinds of sexy competitions and games, often for the first time. If you enjoy ENF and EUF moments then you'll be in for a treat, as they have many in their archive along with new ones which are coming all the time. These EUF pics below are from a wild night out where some girls volunteered to take party in a daring game in front of the rest of the bar. As you can can one of these girls becomes happy and embarrassed as she is talked into pulling down her denim shorts, she then stands there in a revealing white panties looking true EUF for the rest of the show. The site has mostly British and European amateurs doing what they would never do in their home towns, if you'd like to enjoy the most revealing photos of all and the uncensored video just click on any of the pics below and you'll be taken right over to the official website.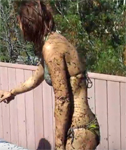 November 28, 2017
A couple of bikini girls are wrestling each other in a muddy pool in someone's back garden, when one of them decides to employ a new tactic to make her opponent lose her concentration, she pulls down the bikini bottoms of the her opponent, quite a long way down. The pantsed girl is very surprised and embarrassed, the crowd cheer, she then goes for some revenge trying to expose the other girl back. This is good fun to watch especially if you like watching ENF or chicks getting pantsed, it's five minutes long, to watch now on WeHatePorn click on the screencap below.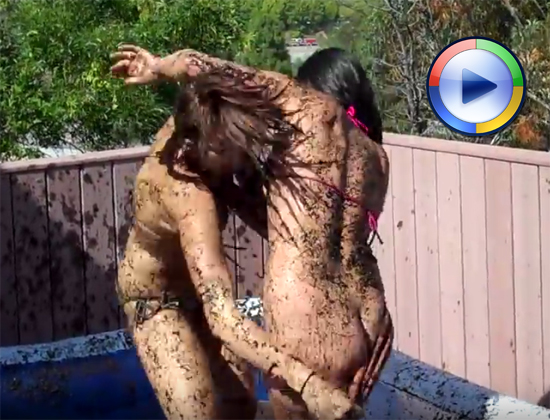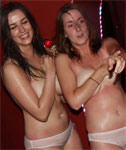 July 27, 2016
You never know what will happen when party girls are having fun, many will come up with the idea of strippingnaked for some excitement and to see the reaction of the faces of their friends and the guys.  These girls love attention, they will use their sexy bodies to get it, but sometimes when the reality kicks in they feel a bit embarrassed about what they've just done, that's what ENF is all about, when a girl ends up naked in public but instantly feels embarrassment.  To see more now just click on the embarrassed cutie below.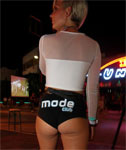 July 22, 2016
Here are some British party girls on a night out in a bar, there are some sexy games taking place on stage and fortunately the Real Girls Gone Bad team in the right place at the right time to capture every moment for you.  There are a few dares going on, things are starting to get naughty, one of the girls ends up fully naked on stage, she instantly regrets it so starts covering her privates, she's got the ENF look on her face.  To see more now on WeHatePorn click on the nude girl below who's trying desperately to cover up.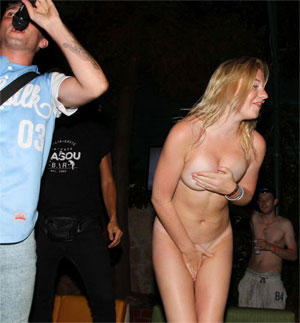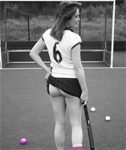 July 20, 2016
There are some girls who will only get naked on the Internet for charity, it is often girls in University sports teams.  Today we've put a together a collection of nice girls showing their asses to raise money for a good cause.  It's mostly UK girls who who have dared to show skin for, this is most likely the only time you'll find these girls flaunting their bodies on the Internet.  Fair play to them for being brave enough to do this to help people out, the next time one of these calendars goes on sale make sure you buy one to help the chosen charities.  Click on the team below to see more.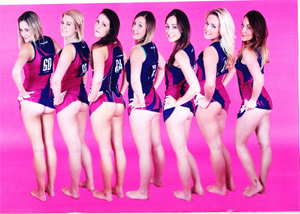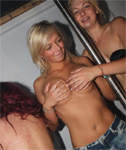 October 28, 2015
Let's join a UK night out and see what the party girls are up to.  It looks like some of them are being dared to strip off, the girls are up for it tonight, one of them is even taking her knickers down, she's getting completely naked for the entertainment of the crowd.  To enjoy this full uncensored evening, you can find all of the original pics on the Real Girls Gone Bad website.  To see more now on WeHatePorn click on the ENF cutie below.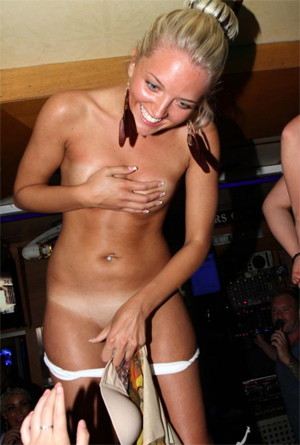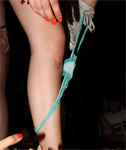 October 18, 2015
Here are some more wild UK girls partying on the Spanish Isles, they're out on a nuts bar crawl, some girls have just got up on stage and have been dared to strip off to entertain the crowd, the ladies don't waste time and pull their knickers down to the delight of everyone watching.  These girls spin around poles fully naked, everyone watching gets a real eyeful of fun and naughtiness.  To see more now on WeHatePorn click on the ENF photo below.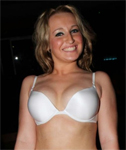 March 20, 2015
So many people are addicted to the Real Girls Gone Bad website and it's easy to see why, they have loads of sexy real girls from the UKpartying and being dared to strip off during the wet t-shirt contests.  Some of the girls prefer to tease but once they get drunk anything can happen, some will even take their knickers down and sometimes do naked star-jumps on stage.  To enjoy more now on WeHatePorn click on the party girl pic below.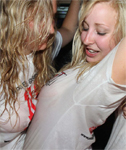 January 18, 2015
We enjoy having a look through the huge Real Girls Gone Bad members area, you could spend weeks in there and you'd still be finding new party girl pics and videos.  We've picked some to share with you today, we know you appreciate seeing these real girl nextdoors partying, having fun and sometimes doing rather naughty things in public.  To see more of these cuties now on WeHatePorn click on the image below.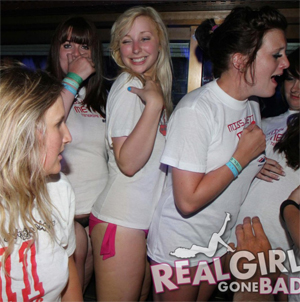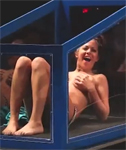 December 20, 2014
Sometimes magic can be rather sexy, in this fun video a hot women is invited to take part in a magic trick on stage, miraculously her clothes are magicked away leaving her embarrassed in a handbra, fortunately she can see the funny side.  To watch now on WeHatePorn click on the image below.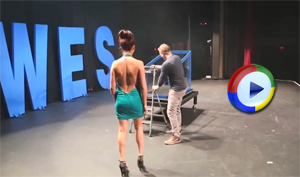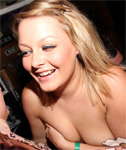 October 17, 2014
At the time of writing it's the start of the weekend, so let's relax and join Real Girls Gone Bad for some drunken real girl action, even in October there are still UK girls partying in Ayia Napa, Tenerife and Magaluf so we don't want to miss out of any of the naughty fun.  If you enjoy ENF moments, handbras, cleavage, stripping and upskirts you're going to be in for a treat with the latest Real Girls Gone Bad updates.  To see more now on WeHatePorn click on the blonde below.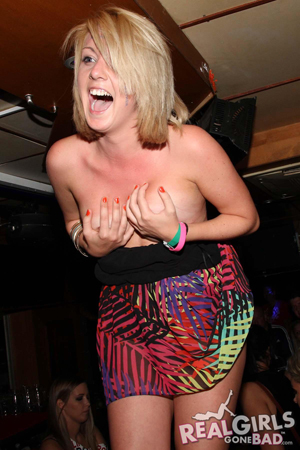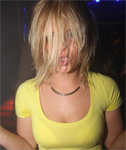 August 20, 2014
It's that wonderful time when we check out the latest updates from the outstanding Real Girls Gone Bad website.  Today there are girls playing sexy games on stage in a bar, the girls are quite drunk and enjoying their holidays in the Sun away from the UK.  Some of the girls need extra encouragement to strip but when there's a party atmosphere anything can happen.  To see more of this now on WeHatePorn click on the embarrassed cutie below.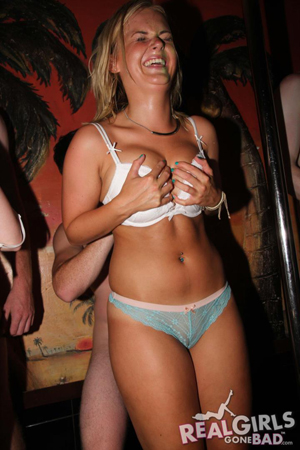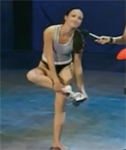 June 28, 2014
Do you remember this TV show? It's the legendary Dog Eat Dog, the best part was when the contestants played strip games.  Here we've got a video of when one of the girls, Marisa, was playing a wonderful game named 'Strip Quarterback', have you seen this before?  It's one of those videos which once you've seen you'll never forget!  Let's see how much skin Marisa ends exposing in the game.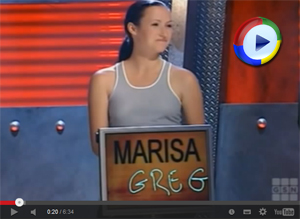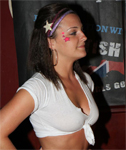 June 05, 2014
Let's get over to O'Neill's Bar in Tenerife and enjoy another of their Real Girls Gone Badwet t-shirt contests.  As always there are plenty of willing drunkparty girls, mainly from the UK, this time we've got some flexible girls and to our delight each girl is trying to show that she's more flexible than the others.  Let's see what this contest brings.  To enjoy more of these girls now on WeHatePorn click on the image below.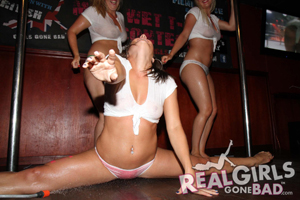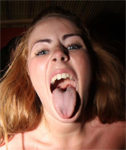 May 23, 2014
It's time to enjoy some of the latest events from the outstanding Real Girls Gone Bad website.  You guessed it, we've got more Britishparty girls getting completely drunk and stripping off in bars and clubs.  Sometimes the girls even seem to have 2nd thoughts once they're naked as they cover up their naughty bits and look on with an ENF expression.  Here we've got a great collection of wild girls doing what they'll only do when on holiday and they think that nobody back home will find out.  To see more of the girls now on WeHatePorn click on the party girl below.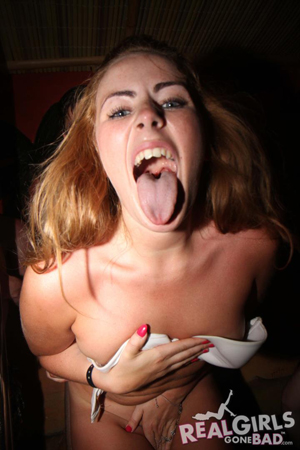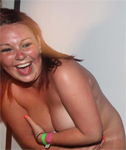 May 17, 2014
Sometimes when girls end up naked in a bar they didn't actually intend to, maybe they thought they were stripping to their underwear or perhaps even topless, it's easy to see if a girl didn't want to be reveal all in public; this is what we call the ENF expression (Embarrassed Nude Female), it's impossible to fake, either a girl is comfortable with being nude in public or she's not; the truth will always show in her face.  We've been looking through the Real Girls Gone Bad public competitions and found an event with some fun ENF moments which occurred mainly due to other people undressing the reluctant girls.  You'll also see some of the ladies who were quite contented with the idea of revealing their goodies in public.  To see more now on WeHatePorn click on the embarrassed cutie below.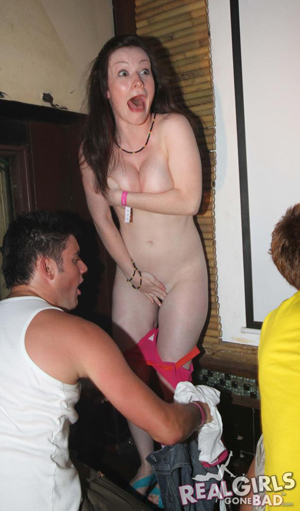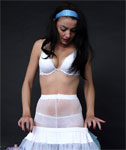 January 24, 2014
Bryoni Kate

is Alice in Wonderland today on

PinupWOW.

  She's heading off on an adventure, what will she find?  It's a crazy land so you never know something might happen which makes her lose her clothes, just a prediction, it's the type of thing that happens in such weird and wonderful lands.  To see if she can keep her clothes on WeHatePorn click in her image below.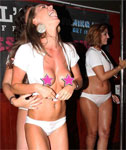 December 16, 201
It's time to check back in to O'Neill's Bar in Tenerife, they regularly have the most amazing wet t-shirt contests for the holiday-makers (mostly British girls), but these are not just

wet

t-shirt competitions, that's just how they start out; by the end the most daring girls can often be found doing naked star jumps on stage (all to win some free drinks).  Most these girls will never have entered a wet t-shirt contest before, but since they're on holiday with their friends and they've had a few drinks (a lot of drinks) then they get involved.  It is fair to say that most the girls didn't know they'd be asked to do anymore than wear a wet t-shirt and maybe flash their boobs, that's what makes it even more exciting when these girls are encouraged to reveal all.  To see more of these girls on WeHatePorn click on one of the three wet t-shirt images below.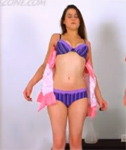 October 02, 2013
Now this one is a bit different, two fully clothed girls suddenly start to grow and grow.  The girls are becoming giants, but there's one issue, their clothes aren't growing with them, which means that in no time at all we'll have two ENF (Embarrassed Nude Females) girls standing there towering above the city where they live.  Click on the image below to watch the video on WeHatePorn now.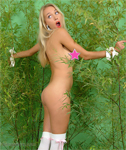 August 14, 201
King Kong has captured and tied up the adorable

Hayley Marie,

Hayley is clearly shocked and has no idea what's coming next.  King Kong is fascinated with Hayley and it doesn't take long until he starts to remove her clothes leaving Hayley both shocked and embarrassed.  To see more of King Kong and Hayley on WeHatePorn click on the image below.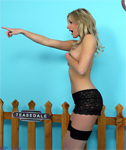 May 23, 2013
Amy Green

is in uniform at a train station, but nobody warned her what happens when the Teasedale Express rushes by, fans of

Pinup WOW

will be able to guess what the gust of wind from the Teasedale Express will do to Amy's uniform.  Amy will be so shocked and embarrassed, perhaps even an

ENF

as they say.  To more of what happens to Amy on WeHatePorn click on her image below.
March 25, 2012
These Naked/Topless Calendars from European Sports Teams and Coeds are becoming increasingly popular.  Each generation seems to get more comfortable with showing skin.  It's time to take a look at some of the highlights of the recent batch of Naked/Topless Sports Calendars.  We've got Football/Soccer, Cheerleaders, Hockey, Netball and More!  To see the pics on WeHatePorn click on the University Soccer team below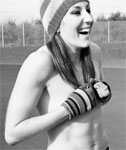 November 03, 2011
Many Sexy Calendars are now being made around the world.  At certain Universities it's the tradition to get the sports teams to pose naked or topless.   Notice how they ignore the Role Playing Society, Bridge Team and Chess Club; they always pick the Sports Teams when it comes to Naked/Sexy Calendars.  I'm just fine with that!  Look carefully for the embarrassed faces of those who are only there due to the pressure from their peers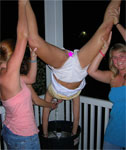 October 13, 2011
Drunk Coeds just love to Embarrass each other in front of a crowd of guys, they know that one of the best ways is to quickly grab their friends clothes and try to reveal their underwear or if possible more.  At many a drinking venue, especially near to Universities you'll see Coeds pantsing their friends, lifting up each other's skirts and pulling each other's boobs out.  One of the best things is that it then means there be some revenge later where the embarrassed coed will try to do create a similarly embarrassing moment for her buddy.  To see some more just click on either of the two images below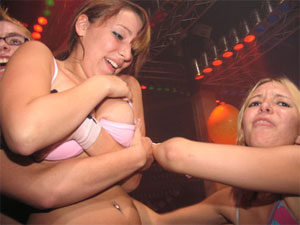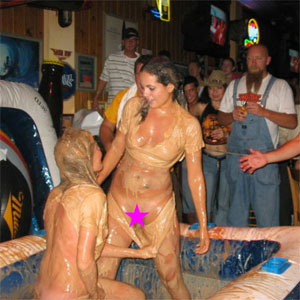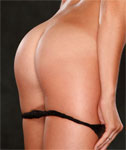 September 24, 2011
Three 18 year old girls arrive at the Columbus Playboy Casting Calls, the result is three ENFs (Embarrassed Nude Females), three girls who wouldn't normally have got naked for the camera.  One of the girls in particular has a undeniable ENF expression as she's asked to pull her panties down.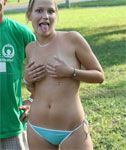 September 12, 2011
Plenty of Initiations currently going on at Universities and Colleges around the world; more often than not related to the sports teams.  These Freshers wanted to join the Sorority but were told they would first have to be stripped in public by the soccer team, in addition the soccer team would use their teeth to strip them.  All of the girls have passed with flying colors and are now proud members of the Sorority.  Congratulations Girls!!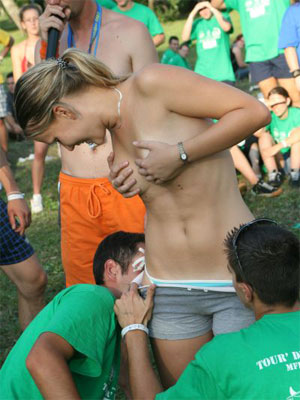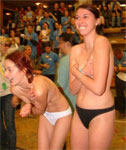 September 12, 2011
Millions of Students around the world have just gone back to University.  It's very important for the female freshers to be accepted into the Sorority and other groups, but to do so they first have to go through a series of Initiations, lots of such Initiations involved stripping and/or nudity.  Let's take a look below at recent goings on European and American Universities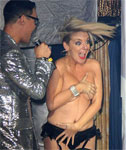 September 06, 2011
Actress Sheridan Smith gets stripped on stage by Gok Wan all for a good cause!  It is clear from the photos that Sheridan would never normally have agreed to be stripped on stage, but when it's for a charity Sheridan is a good sport and willing to be stripped down to just her stockings, garters and handbra. One guest said: "Sheridan really didn't want to get her kit off but Gok took the mic and started chanting at her to do it in front of everyone. Sheridan felt she had to because money was at stake for charity. She was fairly mortified afterwards and ran off stage in a hurry. Gok has some making up to do."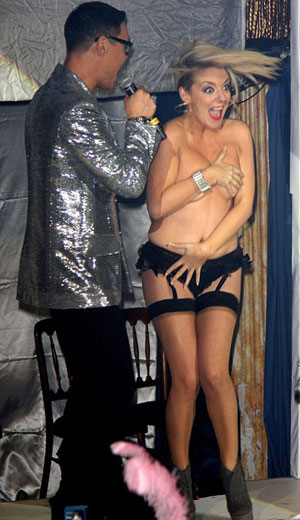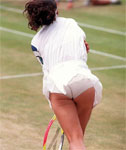 August 19, 2011
Today we've got a Nice Non Nude Collection for you, it'll take a while to list this out but here goes, not in order.  A fantastic video of Katy Perry being Upskirted on Stage (pause at 50 Seconds), we've got ENF girls caught in the shower, Girl Nextdoor Jessie, two cuties from the Kansas Playboy Casting Calls, the Basketball team from Southampton University get Topless, Strip Games where the girls lose, a bikini bottoms oops in the sea, a bikini top oops in the sea, Reese Witherspoon out surfing, a couple of lost bests where the girls end up humiliated, a female wrestler being pantsed in front of the crowd,  Debbie Gibson on stage, a Hot Cheerleader and a Gabbi Sabitini Upskirt from the days when female tennis players would wear real panties under their tennis skirts.  Enjoy!!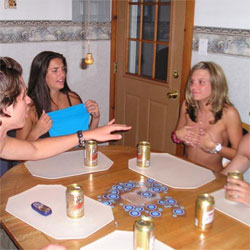 July 31, 2011
Blonde Girl Jennifer has arrived for her Casting Call in Los Angeles. Jennifer is such a Cute Blonde and she is really competive, she'd almost do anything to win the Los Angeles Casting Calls. Will the Playboyphotographers be able to get her to reveal all today? When they do manage to get these cuties completely nude they tend to take a really close zoom in to treat us all. Jennifer is a girl who would never pose nude for anyone else, but maybe there's a chance that she'll get completely nude here today. Fingers Crossed!! If you'll like to see the Hi Res pics from the photoshoot and HQ Behind the Scenes video feel free to head over to the

Cyber Club

, gain access for less than $3, then go to Casting Calls > Los Angeles 2 > Jennifer. Feel your pulse rate rise!  Click

HERE

to go there now